Smoking Pot
Smoking pot
For years, the therapeutic benefits of cannabinoids for a variety of indications have been studied all over the world. Key drawbacks inhibiting wide clinical use of the active ingredients used to be smoking as the primary form of application, dosage issues (leading to side effects), low bioavailability, variations in quality due to unknown origin of the plants, purity of extracts (plant extracts can hold numerous other compounds other than the active ingredient itself) and limited shelf life of extracts at room temperatures. Namisol® is the world's first oral tablet that contains pure, natural Δ9-THC (dronabinol) in fixed dosages with high, predictable bioavailability and a long, stable shelf life at room temperature. In a few years it will probably be possible to take a pil and have all the benefits of marihuanan without smoking it, some will like it, but most of us will miss the romance of preparing the joint and then enjoying the smoke
In the Netherlands patients can get a medical prescription to buy Marihuana in the coffeshops at reduced prices or receive medical quality marihuana for medical purposes, mostly pain releif and to enable them a good sleep.
Echo Pharmaceuticals, has joined forces with the University Medical Center (UMC) St. Radboud in a consortium to expand and pursue further development of the cannabinoid-based tablet Namisol®.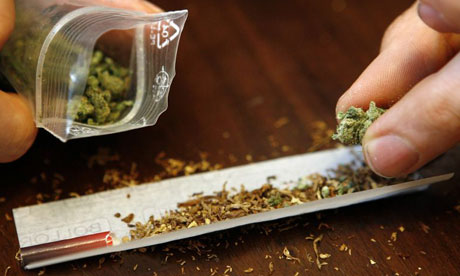 The consortium has been granted a European subsidy of 4,5 million euro for the second phase clinical studies with Alzheimer patients and patients with chronic neural pain. Smoking of cannabis will no longer be necessary for these patients as Namisol® will offer greater convenience, dosage control and significant relief of symptoms.
Echo Pharmaceuticals B.V. has successfully completed the first clinical studies in humans for the cannabinoid-based tablet Namisol®, which is an oral tablet containing THC, the most prominent active ingredient in cannabis. Echo's Executive Board Member Geert Woerlee states "this ground-breaking milestone puts the tablet on track to become the first single cannabinoid-based registered medicine in Europe". In collaboration with the UMC St. Radboud, the second phase trials on patients with Namisol® are currently in preparation for the indications of Alzheimer's disease and chronic neural pain such as e.g. post surgical pain. UMC researchers Prof. Dr. Marcel Olde Rikkert and Dr. Harry van Goor quote "It's a fact that cannabis has a positive effect on the central nervous system. The most prominent active compound of cannabis responsible for this is THC. THC is especially relieving for patients with complicated symptoms that occur with Alzheimer's, MS and chronic neurological pain. By formulating the compound THC into a tablet, cannabis can be administered with just a sip of water."
Namisol® is expected to be ready to enter the market in a few years' time. Seeing the increasing amount of applications and the advantages that Namisol® has to offer, the demand for an officially registered cannabinoid-based tablet will be substantial. The market potential for Namisol® is exceptionally strong, particularly when considering that the central nervous system is one of the largest and fastest growing therapeutic areas in the pharmaceutical market. Only in The Netherlands there are already more than 3 million patients that suffer from pain (source: Painplatform The Netherlands). Recently the consortium received a capital of € 4,5 million (total costs € 9 million euro) from a European subsidy program in order to invest in further development of Namisol®. Next to Echo's private investor, the Dutch Ministry of Economic Affairs also granted an innovation credit to continue with the initial Namisol® development program for pain and spasms in MS. In Europe there are approximately 670,000 people with MS (source: European MS Platform). The supply of controlled, high quality raw material by the Dutch Office of Medicinal Cannabis (OMC) and sanction of the Dutch government for such developments secure a successful development for Namisol®.

Namisol® is a novel investigational oral tablet containing THC, also referred to as delta9-tetrahydrocannabinol or in medical terms Dronabinol, which is the most prominent cannabinoid in cannabis that has a therapeutical effect on the central nervous system (CNS). For decades, preparations of cannabis (Cannabis sativa L.) have been employed in the treatment of numerous diseases and/or severe ailments such as chronic pain, nausea, vomiting, Glaucoma, Anorexia nervosa, spasticity and other symptoms related to the CNS. Currently applications of the cannabinoid-based tablet Namisol® for the treatment of pain and spasms in Multiple Sclerosis, Alzheimer's disease and as an adjuvant during chronic pain treatments with morphine are being investigated. Research on additional indications is anticipated. The formulation of Namisol® has been created such that its dosage form is reproducible, standardized for dosage control, offering patients convenience and an enhanced absorption. Smoking medicinal cannabis will no longer be necessary.