From body culture to art, nude and beyond..
Since its first official competition in 1977, which featured contestants sporting high heels, female bodybuilding has been a hotbed of gender-related controversy. From the start the female input had a faithful audience. Female bodybuilding gained popularity in the early 1980's, took a dark turn into the 1990's with a rampant drug use breading masculine female physiques.
Most men and women view female bodybuilders as freaks. They cringe if they come across some well-oiled bodies posing. They make nervous jokes when they see the chiselled ladies posing in skimpy bikinis on the cover of Women's Physique World. Maybe it's the bulging biceps and massive thighs, or those ropy veins coursing over muscle. Perhaps it's the jutting jaw lines that resemble a male instead of a female. And there's something just wrong about seeing curvy breasts transformed into rock-hard Pecs.
Some men, however, see these ladies as Amazonian goddesses to be worshipped. But unlike most of us who are forced to pay homage to our sexual icons from afar, these muscle fans don't have to. They can easily have a sexual experience with their dream date. All it takes is money.
Officially, Women's Physique World is dedicated to celebrating the competitive world of muscular women. The informed worshipper of female muscle, however, sees the magazine as a guide to a group of very specialized sex workers. So does the rest of the female bodybuilding community.
Pictured a magazine cover from 1985.
"See her?" asks a Florida bodybuilding veteran, pointing to a photo. "She'll let you masturbate, and she sometimes jerks guys off." What about the buff beauty on the facing page? "That one does wrestling and domination, and she'll sit on a guy's face to smother him. And her, she'll go topless for an extra $100, and everything's available for a price."
No one in the sport likes to openly discuss private posing sessions, but many male and female bodybuilders advertise in print and online for customers. These sessions are one-on-one, meetings for which men pay $200 or more for -- supposedly -- a private flexing show. Some of these sessions escalate to body worship, in which the client pays extra to massage his muscular object of desire while he masturbates. Many female bodybuilders will also wrestle with a client. Depending on the woman, there's also a chance for sex. If a guy starts negotiating, he'll find out how lucky he can get.
THE PERSONAL TOUCH
"It's the most intense experience you can have with a woman," raves a regular client of female bodybuilders. "It's more than domination. A dominatrix is just some woman pretending to be mean while she's taking your money. Female bodybuilders are all real. They prove that you're weaker than they are by carrying you around or by letting you hit them really hard in their abs. They don't even feel it. You start to wrestle, and you know she's in control. You're defenceless, and you don't have any choice but to worship her.
"Forced muscle worship is the best," the client adds. "She makes you worship her calves or some other body part, or she'll start squeezing you and put you in a lot of pain. The best session I ever had was with a woman who let me jerk off onto her shoulders while she did a biceps pose. I almost passed out." Of course, not all female bodybuilders do these private sessions. A national title holder is quick to point out some untouchables: "You can't buy the top competitors. Nancy Lewis doesn't do it. Yolanda Hughes doesn't. Vickie Gates? Not a chance."
However, some of the industry's big names are available for sessions. Nicole Bass -- the female heavyweight and overall winner of the 1997 National Physique Committee National -- is a regular on Howard Stern's radio show. She has set up AOL chat rooms to solicit private wrestling sessions. Men who contacted her online got her phone number to arrange private sessions with "manual release." The self-billed "largest women's bodybuilder in the world" also solicits clients on certain adult sites, giving out her AOL address. "I am going to Chicago and Salt Lake City," wrote Bass in a recent posting, "to take on some clients and have the time of my life showing these men how to worship and serve women."
Other ladies arrange their meetings through websites. These sites allow users to look at photos and profiles of competitive female bodybuilders from all over the country, complete with descriptions of how far they'll go in their private sessions. Kasie of San Diego, matches an impressive competition résumé with her availability for "fantasy wrestling, muscle worship, lifts and carries, light domination, posing and flexing." Gayle is the 1999 overall winner at the Jan Tana Classic and is available for "fantasy wrestling only, muscle worship/posing, domination role-play, and some lifts."
"Iron Belles will stop listing women who get known as prostitutes," says one well-built lady wrestler, "but it's still a great way to let people know when you're available for sessions."
Fortunately, male connoisseurs of muscle-bound females can compare notes on women's willingness to do more than wrestle. The Diana the Valkyrie website features a message board where men discuss the extent of sexual encounters with different bodybuilders. One of the site's users recapped his history of six paid encounters, doing his best to hint about the finer details: "Taking off her thigh-high hose was incredible." One of the biggest names in the industry also gets a glowing endorsement. "I shot my load," rhapsodises the client, "the moment she removed her jacket to expose her massive guns."
SEX, DRUGS AND MONEY
Why do these women do it? Money! As one female bodybuilder explains, "Competitions always come down to who has the drugs." Several women confirmed that bodybuilders of both sexes can spend more than $50,000 a year on illegal steroids and other drugs. To make matters more difficult, female bodybuilders are less likely than mainstream athletes to get corporate sponsorships or endorsement contracts. "Most women don't want to look like us," explains one woman, "and there's no money in competing on the national level. What else can we do for a living?"
And what happens to a female bodybuilder when the sport's power structure finds out she's turning tricks? Apparently, not much. Nobody seems very concerned about the private sessions. "If you're seriously out to compete," says an industry veteran, "you probably shouldn't get nude in a catfight or wrestling video. Doing sessions won't hurt your chances in competition." Ben Weider, the founder and International President of the International Federation of Bodybuilders, begs to differ. "If they're involved in sex work," says Weider, "or anything that brings dishonour to the IFBB or bodybuilding, they'd be suspended so fast their heads would spin. They would be suspended all over the world. They're toast, as they say.
"There are undergrounds in everything," Weider concedes, "but we're not going to let a few girls harm our reputation. If a woman bodybuilder takes a picture where her vagina or breasts are exposed, and she is active as a bodybuilder, she is suspended. Not just women, either -- we have men who have been suspended for doing stupid things."
Weider's determination still didn't stop the sessions. The bodybuilders interviewed for this article requested anonymity, but not because of the IFBB. Instead, they all share the concern of being taken down by the IRS. "Some girls on the East Coast will come to Boston for private wrestling and domination," explains a lady on the circuit. "These girls can come in for a weekend and walk out with $6000 in cash. The IRS is making it all about money, because it's hard to prove prostitution."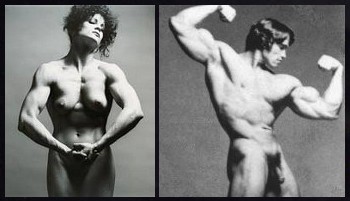 From the beginning the celebrities from bodybuilding where pictured artistic in the nude, pictured here Lisa Lyon and Arnold Schwarzenegger How has this open secret gone unreported? The mainstream media just hasn't seemed interested. Magazines and television prefer an idealistic take on female bodybuilding, presenting these ladies as symbols of empowerment. In the early Eighties, power lifting champion Bev Francis became a feminist hero for building her body beyond the traditional accepted female proportions. And Gloria Steinem once interviewed Patti Davis, daughter of Ronald Reagan, about how building muscles helped the presidential daughter to overcome her insecurities. In the end, it seems that no one wants to admit that female bodybuilders may be just another cog in the sex industry.
From the beginning the celebrities from female bodybuilding where pictured in the nude, pictured here Lisa Lyon. The male we all know as Arnold. Lisa Lyon the most recognised early competitor and winner of the 1979 Women's World Bodybuilding Championships, predating the Ms Olympia. Lisa was first subject of nude and fetish photographs by the late notable photographer Robert Mapplethorpe, and then made an appearance in Playboy magazine in 1980, the first female pro-bodybuilder to appear. Later Anita Gandol (Playboy 1984) and Erika Mes (Playboy 1987) followed her example and all earned a one year suspension from the IFBB.
MAINSTREAM SEXPLOITATION
The female muscle fetish boom -- accompanied by steroid use -- didn't begin until the late 1980's. Now, many female bodybuilders are hoping for a chance to move from personal wrestling sessions to more traditional sexploitation. "The Playboy layout with Chyna only happened because of the pro wrestling angle," explains one entrepreneur, "but we're hoping it got a lot of the muscle fans out of the closet."
About Muscle Elegance. This female bodybuilding magazine is geared for adults only, as it contains full frontal nudity, and you must be 18 to purchase it. While this magazine is not for everyone, it does show the 'women of muscles' point of view. And yes, the editor in chief of the magazine is a female bodybuilder.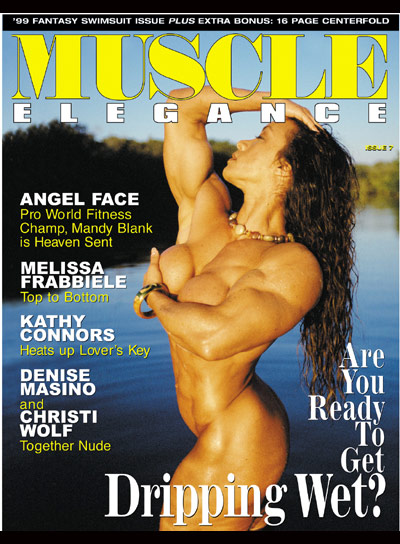 Pictured the issue of July 2000, on the cover is Denise Masino, who also publishes this magazine, its the only nudie mag in which you'll find full-colour advertisements for the Arnold Schwarzenegger Fitness Weekend 2000. Muscle Elegance features the strapping ladies seen in mainstream muscle mags, but shot in sexy settings worthy of a Sports Illustrated swimsuit issue.
"That world of sessions doesn't affect me," says Masino, "and it's irrelevant to me whether or not a model is available for sessions. I'm not in that business one way or the other. I don't think that a woman posing in Muscle Elegance would necessarily be inclined to do sessions. I've posed for the magazine several times, and I don't do sessions."
Instead, Masino is trying to mainstream the world of muscular women. "We feature them nude," she explains, "while trying to keep a certain level of taste and quality. We do it along the same lines as Playboy. These are extraordinary women. If they're also presented as sexy women, then maybe perceptions will change. America wants to see their women as beguiling, and Muscle Elegance tries to show female bodybuilders in a favourable light."
It may still be a few years before some men are ready to appreciate the allure of a sexy lady with 17-inch calves. Until then, private sessions will remain a necessary part of the industry's commerce. "We really need somebody to come in and clean up the industry," says a frustrated femme bodybuilder. "The government is going to be down all of our throats soon enough. All the sponsorships are going to women who do fitness competitions, because they stay more feminine. Sex is the main business for a female bodybuilder nowadays. Some guy wants to pay me $300 to kick his ass? No problem."
The Dutch Ms Olympia Juliëtte Bergmann, knows from experience how erotic muscular woman can be for men. "On my website I get all sorts of questions from these weirdo's. There are those who want to pay me a lot, to touch me, or even want to fight me. As they become obviously excited. Well, for me they are all weirdo's. But it does indicate that there is a market for what Denise, Debi and Pat are doing. In America, the land of the bodybuilding sport, they are big stars. I consider them more as porn-stars than as bodybuilders. I meet those girls at certain events in America sometime. Look, in real bodybuilding you judge for symmetry and aesthetic proportions. But when you watch these girls you do not. There is only one question that everyone always puzzeled: what hides underneath the bikini? It is both laughable and sad at the same time. Anyway, I do not condemn them. They are responsible for what they do. Moreover, they are just very nice chicks, who (literally) want to cash their bodies. "
In the year 2000 Denise Masino said: "We feature them nude, while trying to keep a certain level of taste and quality. We do it along the same lines as Playboy". She really did so for some time, but Muscle Elegance is gone and Playboy will follow. The VHS movies and DVD's became more and more explicit.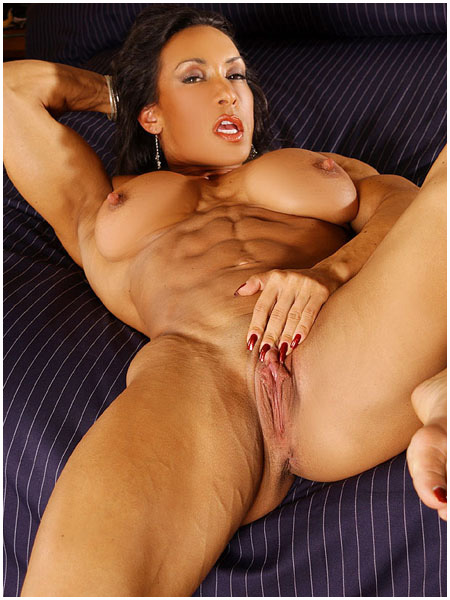 The nudity turned into hard core porn and in 2010 all intimate details are shown in detail. Just like all possible sexual acts you can imagine
It is common these years to look at girls posing stripped on the net. Some could expose good aesthetics and some are honestly amazing. But most of the naked female bodies you note can seem dull or plain or common. It may even be good every once in a while to note any other types of build or variety of the women body. It could besides be a refreshing sort of naked bodies. Despite the resentment of many men and women, female bodybuilders present and feature an unusual sort of dream.
Female bodybuilders who expose their nude selves certainly sport another look from other babes who are fewer muscular. These female bodybuilders expose parts of their bodies that don't customarily appear muscular and are often only found in men. Samples of these are ripping abs, great deltoids, huge biceps and triceps. These actual qualities combined with the already seducing modest physicality of women organs, give men more than enough heat to be appealing for more. These muscular bodies give men things to ponder on. Things that make their heads turn. Things like "What it feels to have sex with a female bodybuilder". Guys would wonder how it would feel like to have female bodybuilding sex. What it would feel like upon entering, and who would be on top. For many men who are adventurous enough, that could be an interesting method to try a little variety and would like to spice things up a little by changing the kind of sex partner with a female body builder.
Female bodybuilders are by example Denise Masino, Debi Laszewski and Peg Schoolcraft, these 40+ ladies no longer compete the big competitions. Their physical condition makes money on: videos, movies, photo sessions; gigs ... The dollars keep pouring in. The websites of these sex-bombs with their hard male (muscle) lines are flooded with enthusiastic responses from fellow exhibitionists. Photographers and film directors are queuing up to contract them. If they would stop the steroids, they never have a normal sized clitoris. The question is whether they even want that. Some are extremely conscious of their bodies change. I think that it is a foremost typical American phenomenon. Bodybuilding in the States has a completely different field of interest than in the rest of the world. Financial interests play an important role. In this respect we don't need to worry for Masino and her associates. Unlike competitive bodybuilders, these older girls earn a fortune with their 'fourth limb' in the porn industry.
Nevertheless, there will always be critics who will display distaste and dislike.
Muscle Worship: Hidden Lives, Documentary
Five's human interest documentary strand continues to explore unusual and sometimes alarming personal tales from across the globe. Examining the bizarre world of female bodybuilders and the adoring male fans they attract, Monday's compelling edition focuses chiefly on Gayle Moher, one of the world's leading athletes in the field.
There are only 70 professional female bodybuilders in the world, and Gayle Moher is in the top ten. She lives in Scottsdale, Arizona with her 17year-old daughter, Courtney. Originally from Norwich, she moved to America in the late 80s to pursue her dreams of becoming a bodybuilder. "It's a sport that people who are not involved in couldn't possibly understand," she says.
With little money to be made from tournaments unless she wins, Gayle has to rely on the money she earns from photo shoots and amateur DVD sales. However, the majority of her income stems from 'personal appointments' with the legions of male admirers who are willing to pay top dollar for a visit. Monday's programme follows thirtysomething bus driver Rommel as he happily spends a week's wages to meet a bikini-clad Gayle for an hour. He gets a massage, has a feel of her bulging biceps, and is even given a vice-like headlock between her sinewy upper thighs. "People can draw their own conclusions, but it is nothing more than people meeting us as bodybuilders," she insists. "I really don't care what people think."
The cameras follow Gayle as she joins fellow bodybuilder Lauren Powers on a muscle-stop tour of Europe, taking in several countries and meeting many private appointments. In London, the musclypair meet 50-year-old parcel sorter Daniel from Bristol, who has made a four-hour coach journey to meet Gayle. He spends virtually all of his money on his hobby, having spent £30,000 in five years on sessions and gifts. "I don't know why I like muscular women," he says. "My personal view is that it is just in my genes." He gets the full treatmentfrom Gayle, who allows him to kiss her biceps and marvel at her rippling torso. Lauren, who is more of an exhibitionist, seems to revel in the attention and welcomes the easy money. Gayle, the more aloof of the two, clearly finds it a strain being away from her teenage daughter and her beloved horse stables in Arizona. "When you've done three or four days with five or six sessions a day, I have to admit it does get a bit old sometimes, and you wonder why you're doing it," she reflects.
Next stop for the girls is Milan, where they attract a lot of attention on the street. Lauren makes no effort to hide her light under a bushel, and an ordinary stroll down the street becomes an odyssey of beeping horns, waves, stares and comments. "When people see me in public, three things happen," she says. "Either they have such admiration –which is about 90 per cent of the people –or they feel threatened and intimidated by my appearance. Then there are some people who are completely disgusted."
Gayle's trip is rounded off by a visit to her parents in Norwich, who only get to see her a couple of times every year. On this visit, she has even brought them a gift –a copy of her latest DVD, 'Evil Goddess 2'. How do they feel about their daughter's career? "If men are stupid enough to pay good money to touch Gayle's muscles," says mum Wendy, "then good luck to her."
Before her world tour ends, Gayle describes a tragic, life-changing moment in her younger days in Norwich –something which may well have contributed to her moving to America and choosing such an unorthodox career. She returns to Arizona looking jaded and homesick –but she is $10,000 richer than when she left and she has made a lot of muscle enthusiasts very happy. All in all, it has been an average fortnight in the life of Gayle Moher.