From Beauty Queen to Fighter
F

rom Beauty Queen to Fighter
I was reading a muscle magazine and I read about Whitney Miller who is a very unusual girl in the Fitness industry. She was Miss Texas 2012, and subsequently Miss United States 2012, but not only she is also a professional wake surfer, a Fitness model and a TV host.
That's all nice and beautiful but why would I write a blogpost about her? Well after her beauty contests she took up kickboxing to stay in shape. Then she made the decision to pursue a career in combat sports. From Brazilian jiu-jitsu to MMA and in 2016 she made her amateur boxing debut against River Fuller.
And she not only good looking but also very open on her unusual recreational and supplemental drug use. On the net you can find many interviews with her and I combined some to a i.m.o. nice overview.
T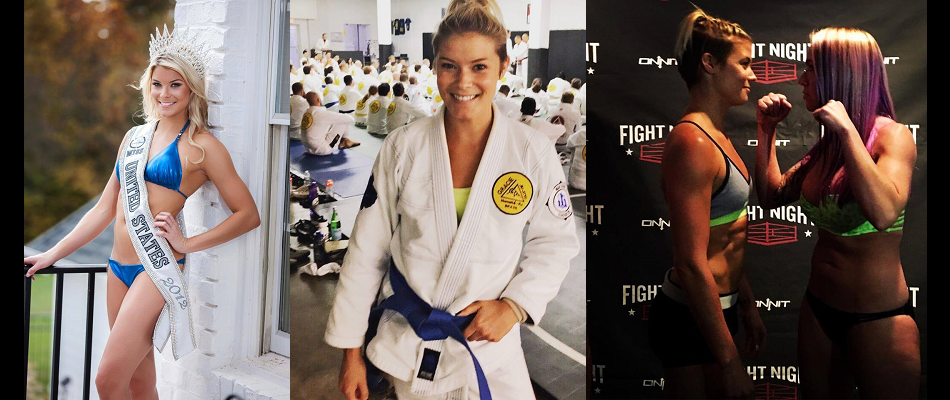 he former Miss United States 2012 has participated in beauty pageants since she was 15 years old. When she handed over her Miss United States crown, she made the announcement in her farewell speech that she was going into combative sports. The next week she took her first jiu-jitsu class. After only three months of training, Miller entered her first tournament and came away with a gold in gi and a silver in no-gi. (The gi is the traditional Brazilian jiu-jitsu suit, pictured above). Six months in, she began publicly documenting her journey toward earning her BJJ black belt and considering a future in MMA, through YouTube, Twitter, Facebook, and Instragram under the moniker Miss2Jits.
In the interview Miller says. "I honestly didn't think I was going to get any views or shares or anything."
She was wrong. Her first video, posted in early January, received coverage from Yahoo, Fox Sports, a number of national papers, and countless MMA blogs and garnered a huge response from supporters and detractors alike. Plenty of people both inside and outside the martial arts community wanted to support the Miller as she pursued her new dream.
You've been a TV presenter, beauty pageant competitor and professional wake surfer. What led you to start doing Brazilian jiu-jitsu?
"I'm always looking to challenge myself. One night I was watching the UFC thinking it would be fun to do, but I didn't really want to get hit in the face so I decided to get into the ground game. I went to classes but for the first two months I hated it. It was just so difficult physically and emotionally, but it slowly got easier and I started getting addicted to the tactical aspect of it. BJJ is a mental game as much as a physical one, and I love playing a kind of live-action game of chess with my opponent."
To put it all in perspective, just as with bodybuilding magazine interviews, most athletes are sponsored by supplement companies, so …
At what point in your pageant career did you decide to go into Brazilian jiu-jitsu? "At the very end of it. My boyfriend owns Onnit gym here in Austin, and there were a lot of fighters coming through. I thought, I can stay in shape and have a really nice body by doing jiu-jitsu."
You've grappled with UFC featherweight Cub Swanson. Who are you training with now?
Cub and I are both sponsored by Onnit so we still train together sometimes. A lot of athletes come through our training centre and I've been lucky enough to practice with a variety of people, including [UFC middleweights] Andrew Craig, Tim Kennedy, [UFC bantamweight champion] TJ Dillashaw and [UFC commentator] Joe Rogan. They're all awesome, alpha-male style guys, so it's always incredible whenever I managed to come out on top.
On a question about her diet she answers:
Earth grown nutrients! If it comes from the earth and is touched by the sun, I eat it. Personally, I don't believe in strict diets unless you are training for something very specific, and even then, your "diet" should consist of nothing but earth grown nutrients and certain all natural supplements. The only supplements I use are from Onnit. They are all natural and actually work!!
From recent M&F interview: Why did you start to box?
"I wanted to break the stereotypes. Just because I was a beauty queen didn't mean I couldn't fight and do it well. It was about proving to myself that I could do it, and I wanted to see and feel what it felt like going through fight camp."
Did you keep it clean during fight camp?
"I wasn't drinking alcohol, but I would take cannabidiol oil (CBD) to help with muscle recovery. I'd occasionally smoke marijuana to help me sleep." More on CBD later in this blogpost..
What did it feel like to get punched?
"It's shocking. The first time I got wailed in the nose, it hurt; my whole face went numb. Your whole body is like, "This should not be happening. You should not be here." It was the weirdest feeling."
R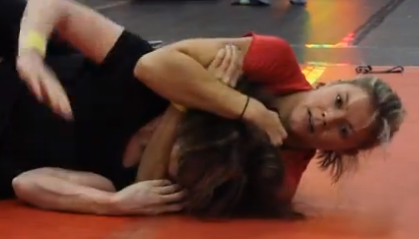 umor has it you broke a girl's arm during a Brazilian jiu-jitsu tournament.
"It was terrifying. She tried to take me down, but I reversed her, then she posted. I grabbed her elbow and it just snapped. It popped in my ear. I got off the mat and started crying. She hit me up from the hospital and was like, "Hey, totally my fault. Don't worry about it."
How did it feel to land shots against River Fuller in your first fight?
"It was exciting. She thought I wasn't taking it seriously, that I was just some beauty queen hopping into the ring. It'd be difficult to turn down another fight."
Any similarities between fighting and beauty pageants?
"The mental aspect. Before you step onstage or answer a question, you need to calm yourself down; it's the same with fighting."
You're into the psychedelic ayahuasca. What's it like to trip on it?
"It's a way of completely diving into the unknown part of yourself. It brings out insecurities and traumas you have in your life and allows you to look at them from a different perspective."
W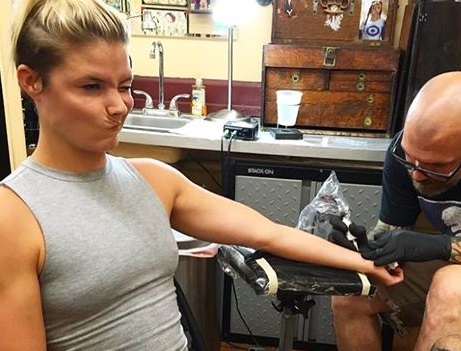 hat does the "7-6-16" tattoo on your wrist mean?
"I made a vow to myself on that date in fight camp to always push myself toward fear and resistance. If I want to do something but think I'm not good enough, this will act like a constant reminder to go for it."
And as you can see Whitney also has enough self-esteem to resist the temptation to take oversized fake breasts.
I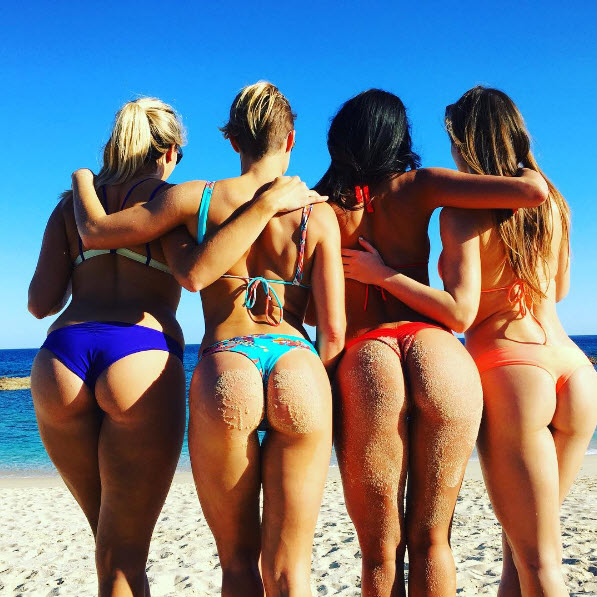 n her words: "To be honest, I haven't always been so body confident. I grew up with a very athletic build that I was told constantly was unfeminine. Even early on, while beginning my pageant career numerous unqualified coaches would encourage me to make my body softer, less athletic, and all in all smaller. Hearing this took me down a path that wasn't very healthy at all and there were times I wished for nothing more than a different body. But now with a hindsight view, I'm so grateful to have the opportunity to live in this body!
When we take care of our bodies and fuel ourselves with the proper nutrition we love the experience of having a healthy vibrant body! This is truly something that took the insecurities away and have allowed me to feel beautiful in front of any camera. Beauty isn't a strangers personal opinion, beauty is how you feel!"
Cannabidiol oil (CBD)
"I wasn't drinking alcohol, but I would take cannabidiol oil (CBD) to help with muscle recovery. I'd occasionally smoke marijuana to help me sleep."
W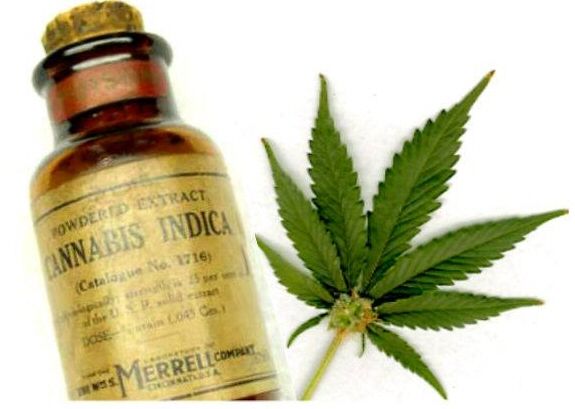 hile using cannabis as pre-workout supplement may sound crazy, it is not uncommon for elite athletes to use cannabis as a recovery tool as well. After an intense workout or training session, you may be tired, sore, or even nauseous. Many people in this situation may toss back two or three Ibuprofen, crack a beer to take the edge off and call it good. However, what you may not realize is that NSAID drugs like Ibuprofen and Aleve are extremely dangerous, especially when used with regularity. If deaths from the toxic effects of NSAID drugs were tabulated separately, these drug toxicities would constitute the 15th most common cause of death in the United States. Therefore, we suggest athletes stick to a more powerful, less toxic, and naturally occurring substance like cannabis.
Cannabidiol—CBD—is a cannabis compound that has significant medical benefits, but does not make people feel "stoned" and can actually counteract the psychoactivity of THC. The fact that CBD-rich cannabis is non-psychoactive or less psychoactive than THC-dominant strains makes it an appealing option for patients looking for relief from inflammation, pain, anxiety, psychosis, seizures, spasms, and other conditions without disconcerting feelings of lethargy or dysphoria.
Ayahuasca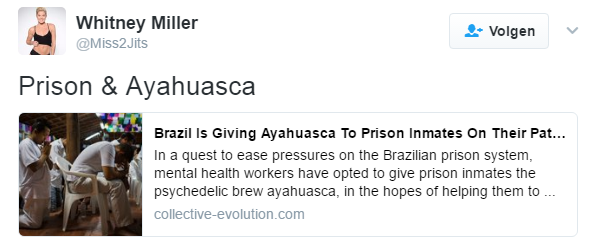 Is Whitney Miller an exception on being so lyrical on ayahuasca? No, of course not Kyle Kingsbury gave an interview to MMAjunkie:
How Kyle Kingsbury used ayahuasca to become a happier person and a worse fighter
Now he can tell people exactly how he really feels, which is that ayahuasca was maybe the best thing that ever happened to him.
"It's extremely introspective," Kingsbury said. "People call it a psychedelic, but it's not like you just sit there and see trails or s–t like that. You have profound visions that are very meaningful and very personal. I've had the opportunity to do it five times, and each one of those peels another layer of the onion, and I've learned more about myself and life in general. Doing that, I've come to terms with a lot of things about my life. I'm a happier person all around."
But here's the question: Does a happier person necessarily make for a better fighter?
But not only fighters…. Ayahuasca, Hollywood's Hip, Heavy Hallucinogen:Terrence Howard, Lindsay Lohan and Jim Carrey all have imbibed a tea from the Amazon (rain forest, not company).
And bodybuilders..
Ayahuasca and DMT are hot subjects, with many people coming back from life changing therapeutic experiences. Dorian Yates, six times Mr Olympia bodybuilding champion is not only a great bodybuilder, but also a trail blazer who always thought for himself. Here he shares his experience with drinking the Ayahuasca brew in Brazil and smoking DMT (found in many plants and produced by your own body).
S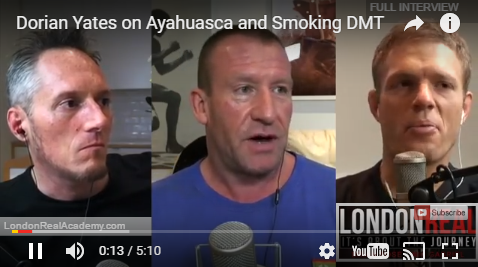 urely this will be a controversial health therapy for many but it is a fact that this traditional healing has helped many in the so called modern world to find a greater meaning and understanding of themselves and their own life, being connected to the greater whole of everything.